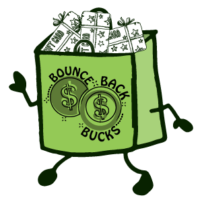 Loehmann's Plaza Bounce Back Bucks: Gift With Purchase Rewards Program 2020
What: 
Retail's Back!  Loehmann's Plaza is celebrating with a shopper rewards program to not only stimulate consumer interest and sales, but offer our merchants a fun campaign to tie-in with and get things rolling with a Gift with Purchase offer.  The program is called "Bounce Back Bucks", as we are bouncing back from a long retail recess.
Beginning June 1, 2020 every time customers spend a minimum of $75 or more in same day purchases; they will be rewarded with a gift card from a participating retailer in Loehmann's Plaza to be used on their next visit.  "We are hoping to provide an incentive that will help sales as well as bring awareness to all our newly re-opened retailers," said Bill Andrews, Vice President Asset Management of Inter-Cal Real Estate Company.
Customers will simply take a photo of their receipt and upload it to receive gift cards ranging from $10 – $25 for purchases made June 1, 2020 – October 31, 2020.
For details on our shopper rewards program please go to: shoploehmannsplaza.com/rewards-program.
When: June 1, 2020 – October 31, 2020
Where: Loehmann's Plaza Shopping Center is located at
2501-2581 Fair Oaks Blvd Sacramento, CA 95825
For More Information:
Visit www.ShopLoehmannsPlaza.com or www.MarketingGuru.com
Like us on Facebook www.facebook.com/LoehmannsPlazaShoppingCenter/
Follow us on Instagram www.instagram.com/LoehmannsPlaza
Kim Kelley-Austin, Marketing Guru
(800) 762-1641 or (916) 235-9396
[email protected]